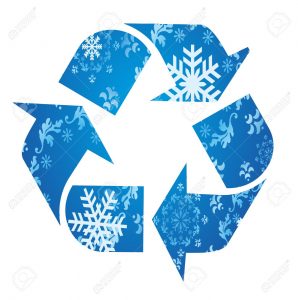 With recycling markets so depressed, it is more important than ever to  only recycle items that can be turned into new products. Check out OCRRA's recycling rules, so you know what's recyclable year-round and read on for holiday specific details.
RECYCLE (in your blue bin):
• Greeting cards and envelopes (nothing metallic, glitter or foil-lined)
• Gift boxes
• Gift bags (glossy is okay, just no glittery or metallic/foil bags)
• Cardboard boxes
• Catalogs and magazines
• Clean aluminum foil and disposable aluminum baking trays (fold or compact for sorting ease)
• Wrapping paper (except metallic/foil paper)
RECYCLE (at other locations):
• Christmas trees 
• Electronics 
• Batteries
TRASH:
• Metallic or foil wrapping paper, greeting cards, gift bags and envelopes
• Ribbons and bows
• Tissue paper
• Styrofoam
DONATE:
• Textiles (clothes, shoes/belts, bags, linens, shoes, blankets, curtains, etc.)
• Toys
• Books (softcovers can be recycled in the blue bin)
To make holiday sorting easier, have a trash bag and blue bin right next to where gifts are unwrapped. Make a game of it and educate your friends and family!
Learn more about year-round recycling by downloading the latest recycing instructions: