How to Properly Manage Batteries:
In light of COVID-19, all battery collection bins at local Wegmans and Green Hills Market have been temporarily decommissioned. Please hold on to your batteries until further notice. 
1. Drop off at Wegmans and Green Hills Market.
Battery collection boxes at these locations have separate collection containers for alkalines, rechargeables and button/coin batteries (including hearing aid and watch batteries).
This drop off is for households only, batteries from businesses are not accepted. Click here for business options.
Deposit alkaline and zinc carbon batteries in the large container. They do NOT have to be put in individual plastic bags.
Put each rechargeable battery (including lithium-ion) in an individual plastic bag (provided) and place in the special container labeled "Rechargeable Batteries."
Place button and coin-shaped batteries in the container labeled "Button Batteries." They do NOT have to be in plastic bags.
2. July Curbside Collection = Alkalines ONLY.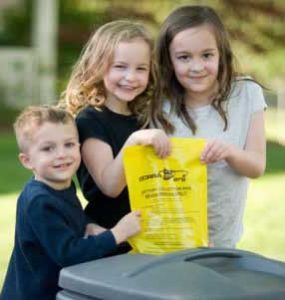 ALKALINES and zinc-carbon batteries go in the YELLOW bags for the July collection. No rechargeable or button types can be accepted due to federal regulations.
How the July curbside collection works: During the month of July, OCRRA teams up with local waste haulers to do a door-to-door battery collection. OCRRA provides residents with highly visible YELLOW battery bags and your hauler picks them up on regular trash collection days.
To get a battery bag, email us – in the email, provide your name, address and zip code. We'll be happy to mail a battery bag to you!
Simply fill the battery bag with your ALKALINE and ZINC-CARBON batteries. No rechargeable or button/coin batteries are allowed. Place the battery bag on top of your closed trash bag or trash container lid. Please DO NOT place them inside your trash can or trash bag, nor in your blue bin. Haulers collect these batteries separately from the trash and recyclables and bring them to OCRRA for proper management.
3. Bring to the Ley Creek Drop-Off Site.
Batteries can also be dropped off at OCRRA's Ley Creek Drop-Off Site. Please separate rechargeable batteries from alkalines, zinc-carbons, non-rechargeable lithium and button batteries. Put each rechargeable in a separate plastic bag.
4. Over 50 Locations Accept RECHARGEABLE Batteries.
Over 50 local places accept rechargeable batteries for recycling at no charge. Check out this drop off locator to find a spot near you! Put rechargeable batteries in individual plastic bags (provided) and place in special container labeled "Rechargeable Batteries." 
NYS Law mandates that rechargeable batteries be recycled. Trashing rechargeable batteries is an offense that can land you with a fine.
OCRRA and Call2Recycle teamed-up to provide additional rechargeable battery recycling options to the community, while reducing operating costs. Learn more about this mutually beneficial partnership.
See exactly how rechargeable batteries are recycled in Onondaga County by watching the Call2Recycle video below.
How To Tell Battery Types Apart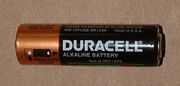 Alkalines come in many different shapes and sizes. Many typical household batteries you would use in a remote control, radio, toy, smoke detector, etc. are alkalines. (AA, AAA, C, D, 6V, 9V, etc.) Some alkaline batteries look a lot like rechargeables and the only way to tell the difference is to read the label.
---
Button and coin batteries are small, flat, circular batteries often found in hearing aids, watches, calculators, etc.

---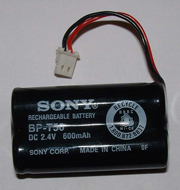 Rechargeables are found in power tools, laptops, phones and other electronic equipment, etc. Also, some look like alkalines, but are rechargeable; check labels to determine if they are rechargeable.
---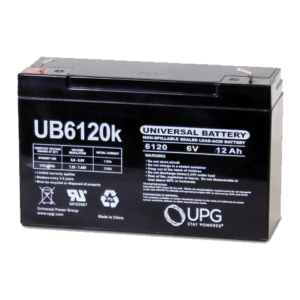 Sealed lead acid batteries are heavy and brick-like, usually with two metal contacts. They are commonly used in large toys such as Power Wheels. They can be taken to Wegmans.
---
Annually, OCRRA's battery collection programs collect 80,000 lbs. or 40 tons of material!
If you are a business looking to recycle your batteries, click here.
Car Batteries
Car batteries may be returned to any dealer who sells them, regardless of whether you bought it there or not. The following locations may even pay you a few cents per pound for old car batteries:
Battery World, 5820 E Molloy Rd, Syracuse, 315 437-1404
Bodow Recycling, 1925 Park Street, 315 422-2552
CNY Resource Recovery, 5879 Firestone Drive, 315 471-0254
East Penn, 6581 Townline Road, Syracuse, 315 432-1760
Metalico Aluminum Recovery Inc, 6225 Thompson Road, 315-575-7428
Syracuse Material Recovery, 301 Peat Street, 315 476-0800
Business Battery Recycling
If you are a business interested in properly disposing of your batteries, you have several options.
1) There are many vendors that offer mail back programs, including Call2Recycle. Search the internet for companies that do "business battery recycling" for other options.
2) Environmental Products and Services of Vermont is a local company that can give you more information on business battery disposal.