If you're a company or organization, such as a restaurant, grocery store, school or workplace with a company cafeteria, and want to reduce waste and save the environment, OCRRA can help!
We'll help you set up a process for diverting food waste, which offers a number of benefits:
Reduces trash volume, which may reduce what you pay to dispose of your trash
Lessens costs to dispose of food waste through OCRRA's Compost Program (about half as much as trash disposal)
Shows your customers that you are environmentally responsible
Produces compost that can be used throughout our community
Contact us today, and we'll help set up a program that works for you, your employees and your customers.
Recognition
OCRRA salutes the local businesses and schools that are leading the environmental pack by composting food scraps with OCRRA:
• Anheuser-Busch Budweiser
• Arcadis
• Beak and Skiff Apple Orchards
• Giovanni Food Company, Inc.
• INFICON
• Pastabilities Restaurant
• Russo Produce
• Salt City Market
• SUNY Upstate at Community General Hospital
• SUNY Upstate University Hospital
• Syracuse University
• The Sweet Praxis
Schools
See the benefits of reducing cafeteria waste and how other schools are doing just that in this video produced through a grant provided by the New York State Pollution Prevention Institute.
In addition to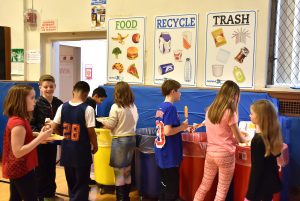 businesses in our community, schools in Onondaga County are separating their cafeteria food scraps from their trash and recyclables. In turn, OCRRA transforms them into nutrient-rich compost that is used to grow thriving plants!
On average, schools find a 50%-80% reduction in trash when they begin food scrap composting.
Interested in getting your school on board? OCRRA can help. Check out this how-to guide and contact us today to schedule free on-site training for students and staff.