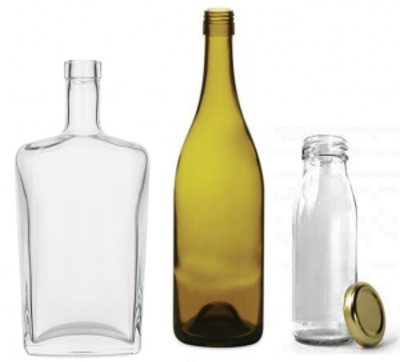 This update is bittersweet. Local redemption centers are no longer accepting non-deposit glass beverage bottles (wine and liquor bottles). In the foreseeable future, please put them in your recycling bin.  
OCRRA launched an effort to expand recycling options for glass bottles in July 2021. The goal was to find out if Onondaga County residents would take advantage of a better way to recycle. The results were both exciting and eye-opening. You exceeded all expectations.  
The plan was simple. Several local bottle and can redemption centers agreed to accept old glass bottles that don't come with a five-cent return. By separating wine, liquor, iced coffee, tea and similar non-deposit bottles from other recyclables in your blue bin, the glass would not get contaminated with bits of metal, plastic and paper. It would be clean enough for manufacturers to turn into new bottles. Because glass is infinitely recyclable, unlike other recyclable items, this is an ongoing recycling solution! 
Glass bottles that go in the recycle bin get mixed with other recyclables and are too dirty to be turned into new bottles. In Onondaga County, and across the nation, most glass is used in engineering projects such as road base construction or to cover landfills at the end of the day, which replaces the need to mine soil.  
The good news? In a span of six months, the amount of non-deposit glass beverage bottles collected at redemption centers in Onondaga County more than doubled, reaching beyond 35,000 pounds. Many residents were choosing the path to better recycling when they had a choice, even without financial incentive! 
The challenge? Our partners at redemption centers operate in spaces that are only meant to accommodate cans and bottles returned for a five-cent deposit. They have started to run out of room for those returns, their primary target and funding source. 
There is no doubt the temporary expansion of non-deposit glass drop-offs was a success in Onondaga County. Residents answered the call. The path to a better way of recycling glass is clear. Expanding our success requires an expansion of the New York State Bottle Bill, allowing redemption centers and bottle collectors to invest in more workers, equipment and space. 
What can you do? Contact state legislators and tell them you would like to add wine, liquor and other non-deposit beverage bottles to the Bottle Bill.  
Look up your New York State Senator here.

Search for your New York State Assembly representative here.
Call, write your own message or feel free to copy and share this note: 
Dear representative, 
I strongly support expanding New York's Returnable Container Act, commonly known as the Bottle Bill. It is time to add wine, liquor, iced coffee, tea and similar bottles that are currently non-deposit. When mixed with other recyclables, those bottles break and become contaminated. Separating them at redemption centers provides the "clean" glass that manufacturers demand to create new bottles. Clean glass is infinitely recyclable. An expanded bill would provide an opportunity to recycle glass bottles over and over again. The path to a better way of recycling glass is clear. I urge you to support updates to the Bottle Bill as soon as possible.