Household Fluorescents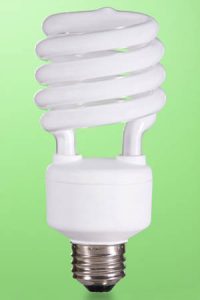 Residents that have old fluorescent bulbs hanging around the house have several disposal options. Bring them to:
Any of the following hardware stores where they will be recycled. OCRRA makes this free disposal option available to all households in the Onondaga County. (They can accept CFLs, 4-foot, U-shaped and circular bulbs).
OCRRA's year-round Household Hazardous Waste Drop-Off program. (We accept CFLs, 4-foot, 8-foot, U-shaped and circular bulbs).
A participating Home Depot or Lowe's store. (They accept CFLs only; the small "twirly" kind).
Click here if you are a BUSINESS looking for disposal methods. 
Did you break a fluorescent bulb and want to clean it up safely? Click here. 
---
You might wonder what makes a light bulb so dangerous. Fluorescent lamps and mercury thermometers contain a small amount of an element called mercury. Mercury is a toxic substance that accumulates in the environment when items containing mercury are broken or thrown away. Mercury has been found in fish at levels of concern, resulting in fish consumption advisories throughout the State. Medical research has shown that exposure to unacceptable levels of mercury can cause neurological damage and attack your vital organs.
So, please, don't trash your household fluorescent bulbs, bring them to a hardware store that partners with OCRRA or a Household Hazardous Waste Drop-Off.
Note: This program is limited to residents. Businesses can find alternate disposal locations below or on the New York State Department of Environmental Conservation's website.
New York State environmental law severely limits disposal of fluorescent bulbs in the trash. It also bans the sale of mercury-added novelty products and mercury-fever thermometers and requires new labeling and proper disposal or recycling of mercury-added consumer products. The law also prohibits primary and secondary schools from purchasing or using mercury.
Partnering Hardware Stores
The following stores will accept compact fluorescent lamps (CFLs),  4–foot fluorescent tubes, (no 8-foot tubes accepted), circular and u-shaped fluorescent lamps for recycling:
Bob's True Value, 4805 South Salina St., Syracuse
Calley's Hardware, 15 North St., Marcellus
City Hardware, 214 South Geddes St., Syracuse
Manlius True Value, 8225 Cazenovia Rd., Manlius
Nightingale True Value, 4068 South Ave., Marcellus
Nightingale True Value, 6 Elm St., Tully
Suburban ACE Hardware, 7990 Oswego Rd., Liverpool
Tully Building Supply, 24 Onondaga St., Tully
Valu Home Center, 123 Teall Ave., Syracuse
Valu Home Center, Airport Plaza, 3803 Brewerton Rd., Syracuse
Valu Home Center, Western Lights Shopping Center, 4671 Onondaga Blvd., Syracuse
Village ACE Hardware, 204 S. Manlius St., Fayetteville
Village ACE Hardware, 43 E. Genesee St., Baldwinsville
Wrightway Hardware, 9236 Oswego Rd., Baldwinsville
Disposal Options for Businesses:
Air Cycle Corporation
www.aircycle.com
American Lamp Recycling
800-315-6262
55 Riverview Drive
Marlboro, NY12542
www.americanlamprecycling.net
Auburn Armature
800-333-0519 or 315 253-9721
P.O. Box 870
Auburn, NY 13021
Environmental Products and Services of Vermont
315 451-6666
532 State Fair Blvd.
Syracuse, NY 13204
www.epsofvermont.com
LampRecycling.com
888-640-6700
2200 Ogden Avenue, Ste 100
Lisle, IL 60532
www.lamprecycling.com
Northeast Lamp Recycling, Inc.
877-822-4733
www.nlr-green.com
Waste Management / Recycle America
www.wmlamptracker.com
WW Grainger
Grainger does NOT collect bulbs. They sell prepaid shipping boxes that can be filled with bulbs and sent to a recycling facility.
315 433-2771
6285 E. Molloy Rd.
East Syracuse , NY 13057
www.grainger.com
OCRRA does not endorse or recommend any of these companies, but rather provides their contact info in order to help you determine the best recycling solution for your business.
NYS Environmental Law
The State's law requires the following:
Purchase and use of elemental mercury by primary and secondary schools is prohibited after September 4, 2004.
Sales of mercury thermometers are restricted after January 1, 2005.
Sales of toys or novelty products containing mercury are prohibited after January 1, 2005. (A product is not a mercury-added novelty solely on the basis that it is a game with a light screen display containing mercury, or includes an easily removable battery containing mercury.)
A manufacturer that produces or sells mercury-added novelties shall notify retailers that sell mercury-added novelties about the product ban and inform them of how to properly dispose of the remaining inventory.
Sales of elemental mercury, except for specific research, dental and manufacturing uses are limited after January 1, 2005.
Products containing mercury must be labeled after July 12, 2005.
Waste products containing mercury must not be incinerated after July 12, 2005.
After July 12, 2005, waste products containing mercury must be managed separately from other solid waste. Fluorescent lamps from households and small businesses (100 or less employees and discarding 15 or less waste lamps per month) are exempt from these disposal restrictions.
Recommendations on reducing mercury pollution in New York State will be made by an advisory committee appointed by the Governor and the State Legislature. The committee will be required to report on the extent and health effects of mercury contamination, methods and costs associated with reducing risks from mercury contamination and other related topics.
Three national companies, GE Lighting, Philips Lighting, and Osram Sylvania manufacture low mercury fluorescent lamps, compact fluorescents and high pressure sodium lamps. These bulbs should be available through any local company that is a distributor of commercial lighting products.